New here? Click here to learn more about us!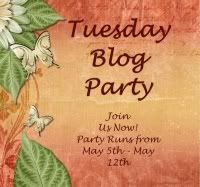 A lot of us who have been in the blogging community for a while know the story of Tuesday Fiona Whitt. For those of you who don't, Tuesday was a little girl who lost her 8 month battle with stage 4 neuroblastoma in January, she was only 2 years old. Tuesday is also a twin. Debi from Who Says 8 is Enough is holding a Blog Party to help raise money for the Tuesday Fiona Whitt Foundation. Debi's fundraising blog will be holding an auction that runs from May 5th until May 12th. To learn more about the auction and fundraiser please click here. To do our part, for every person that becomes a follower until 9:00 pm (EST) tonight (Monday March 30th) we will donate a quarter to the Tuesday Fiona Whitt Foundation. Please help show support for the Whitt family by becoming a follower or making your own donation. We are a community that finds strength within each other. Many of us have suffered loss of some form, lets face it that's what comes with our situation. Others, like us, have been lucky enough to have healthy kids, but we know so many people who are not so lucky. We need to rally around the Whitts and help our families in need. You can find the Whitt Family blog here. Thank you for your support!
As we promised, we are giving away a something EVERY day this week! Today's giveaway is for the "The Everything Twins, Triplets and More Book" by Pamela Fiero. Also, be sure to comment on this post (one entry), blog/tweet about this post (one more additional entry each), or become a follower (two additional entries) to enter for a chance to win. Just be sure to comment back and let us know you are a follower or that you did a blog/tweet about us! We'll announce the winner tomorrow, so check back!

*This giveaway is now closed*
Remember to check in for the day, go visit the blogger ahead of you in the comment list and say hello!