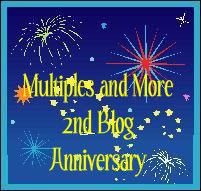 Multiples and More has made a lot of progress in the past year, and has undergone a lot of changes, with still more to come. I'm definitely still trying to figure out what works and what doesn't work and continue to try and keep the content fresh, informative, and entertaining. As always, I could use feedback from you about what you like and don't like, after all this site is for you!
The following posts are your votes for the "Best" of Multiples and More from the past year:
Reader's Favorite Question of the Week:
Readers' Favorite Expert Interview/Post:
Feeling Beautiful in Your Body
Readers' Favorite Featured Blogger Interview:
Abby and Emma of Two Little Monkeys
Readers' Favorite Guest Blog Post:
Readers Favorite Overall Post:
Chantal of Twice, First Came Twins
Thanks to everyone for their input and please, by all means, keep it coming! I really want to continue to improve the website over the coming years, and I need to know what you like and don't like! You can email your suggestions to me at multiplesandmoreblog@yahoo.com or simply leave your suggestions in the comment section.
This is only the start of the 2nd Anniversary Party! Starting at 8 am (EST) tomorrow, there will be giveaways every other hour for you to enter, and at midnight (EST) a Mr. Linky full of everyone's giveaways for you to enter too!