Way back when my husband and I were first starting our family
(our biological family)
we discussed all of our fears and worries, especially the birth defects we both felt we weren't sure we could handle.
It was a short list for me, with autism in my number one position.
We had already fostered disabled children and honestly nothing else seemed impossible to overcome. I had already spent some time working in a special needs school with severely autistic teenage boys and the idea of going through that as a parent terrified me.
I'll be honest, autism never crept into my mind after my first or second biological children were born because they seemed so "perfect" that when I gave birth to my twins in 2006 it was never even a thought.
While my twins had some health issues in the beginning, nothing at first seemed neurological, or at least it wasn't our focus. Our daughter Emma was recovering from a stroke and our son Will was diagnosed with cerebral palsy, so we spent months & months (and years) with physical therapy.
Emma made amazing strides and it wasn't long before she was doing everything, and more, than her peers. Will, however, lagged.
It wasn't until after he took his first steps that we really noticed how behind Will was in his speech, development, social skills, etc. We had spent so much time and energy focused on Will's physical abilities that we just "missed it".
By the time Will was 2 1/2, I was referred to a developmental pediatrician. I was expecting to hear that Will had some traits of a child on "the spectrum". I was not prepared, however, for what I was told…
"Will is severely autistic."
I cried the entire drive home.
All I could picture in my head were those boys I had worked with.
Never mind that Will was sitting behind me in the van, giggling away at the trees going by.
I couldn't focus on my happy little guy in the van with me, instead I focused on my fears and it was awful.
Will is now 4.
It has taken me a long time to not care about the diagnosis anymore.
It took me a long time to see past my fears and just focus on the sweet little boy God has blessed our family with.
He is sweet and the happiest, silliest child you would ever meet.
And, he is spoiled rotten.
Not just by my husband and I, but by all 8 of his siblings as well.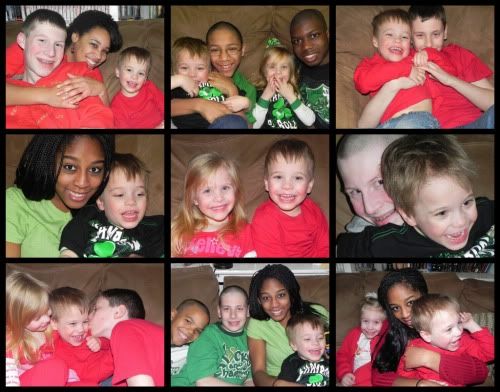 I am not saying that every moment is easy. It definitely isn't.
Having Will in our lives has forced our entire family to make changes to accommodate him.
We all know that if we are going on a trip that we can't go anywhere without packing a diaper bag filled with Will's favorite toys that give him comfort, snacks that he's willing to eat, and at least one sippy cup because he hasn't mastered how to use a straw or "big kid" cup yet.
It wasn't easy at first to get used to always having to prepare for the "what-if" moments, but now we're all pros and so prepared that most days all of us just take those "moments" in stride.
It's been amazing to watch my kids interact with Will,
amazing to see how tender and protective they all are of him.
The same children who fight with one another over the silliest (and sometimes stupid) things are the same kids who would give their last M&M to Will because he smiled at them 🙂
Will has captivated my kids.
He captivates me,
with his happiness, his curiosity, and his beautiful blue eyes.
I can't say that I would wish autism on any other family, but I can say that I would never wish it away from ours.
Will has taught us so much about humility, compassion and understanding in the 4 years since God has blessed us with him.
Our lives are so much richer having Will in our family and I wouldn't trade that for the world.