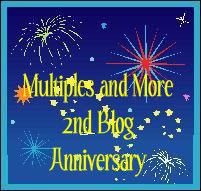 Thank you to everyone for participating in the 2nd Blog Anniversary Party last week! And a huge thank you to all of the sponsors that hosted these amazing giveaways! I'm going to keep this short, because I know you're really not ready this, you're scrolling down to see if you won anything, right? 🙂
The winners are:
Max and Ruby (2 winners): #18 Holly Ann and #34 Leslie
Hold it Baby: #31 E. Merritt
Tag Along Adventures (4 winners): #1 Cindy, #9 Sarah, #20 Tiffany and #3 Melanie
Big Time Rush: #7 Leslie
SafetyTat: #20 Safire
The Greener Good: #31 MandyE
BOOM! by Cindy Joseph: #21 DakotaPam
Chuggington: #3 Hayley
iCarly: #6 Mom of Twinkies and a Tot
Easy Lunchboxes: #51 Kristyn
lilsteinstyles: #47 JP's MOM
Go, Diego, Go (2 winners): #34 Ticia and #32 Machelle
Stella & Dot: #74 Jamie
You Cannot Be Serious: #18 Samantha
The Backyardigan's: #53 Barbara Manatee
Captain Planet: #2 Lisa @ Two Bears Farm
Laurie Berkner Band: #24 Brandy
Myself Belts: #14 Mama Britni
SpongeBob SquarePants: #5 Beth
Silver Mermaid Jewelry: #23 Jenifuz
Double Up Books: #2 Christina
Sweet Simplicity Designs: #45 Krystle
Congratulations to all of the winners!!!! Be sure to email me at multiplesandmoreblog@yahoo.com to claim your prize. You have week from today to claim your prize before I redraw winners.