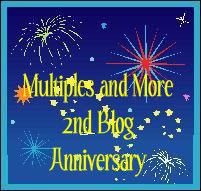 It's been a great three days of giveaways! A huge thank you to all of the sponsors! Please be sure to stop by their sites and pass their info on to your friends and family!
Be sure to keep checking the Linky with all of the community member giveaways, and in case you missed any, here are all the giveaways :
BOOM! By Cindy Joseph

Chuggington
You Cannot Be Serious

The Backyardigans
Captain Planet and the Planeteers
And in case you missed the big announcement, be sure to read THIS
Again thank you to all of the amazing sponsors!