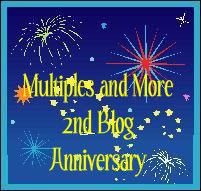 It has been an amazing week long celebration! I still cannot believe Multiples and More has been up for two years now. It seems like only yesterday the first post went up. This year especially has been a big year filled with many changes and more to come. I really want to thank everyone for sticking with the site and helping to make it the amazing resource that it is.
One of my favorite things about the site is that it connects all of us to each other, and introduces all of us to so many different blogs. Today is all about our blogs! Below is a Linky for you to sign in with your blog and then we can all hop from blog to blog "meeting" each other. If you would like to meet some new bloggers, and gain new readers for your own blog, simply sign to the Linky, and click on the other blogs that are linked up. When you get there, follow them (hence, Follow Me Friday). Remember to leave a comment when you follow them so they can follow you back!
Don't forget, the giveaways are open ALL weekend long, and the winners will be announced on Monday!
Thank you again everyone and my virtual door is always open to you! Feel fee to contact me at multiplesandmoreblog@yahoo.com, on Twitter at @multiplesnmore or @amandanethero or on Facebook.