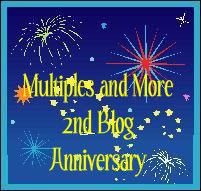 Just a reminder that the 2nd Blog Anniversary Party starts on Monday! Don't forget to vote for your favorite posts for Monday, you can either email your vote or post to Twitter (@multiplesnmore) or Facebook.
Here's the outline of events:
Monday: The Best of Multiples and More! Your favorite posts will run this day. All I need you to do is tell me what your favorite expert interview, featured blogger, product review, Thursday post, and guest post were by emailing them to me at multiplesandmoreblog@yahoo.com. You have until Sunday March 27th at 9 pm EST to send in your votes.
Tuesday, Wednesday AND Thursday: Get ready for some awesome giveaways! There are 12 confirmed sponsors and more to come that are going to giveaway amazing prizes. There will also be a Linky for you to link up your own giveaways! The Linky widget will go up on Wednesday morning and will be linked in all the posts that day and Thursday so be sure to check back often! All giveaway winners will be announced the following Monday.
Friday: Meet our MoM's and Dad's Day! There will be a Linky set up for everyone to sign in and the goal is for everyone to hop around all of the blogs and leave some love! Plus, it's a great way to find a new blog to read!
I cannot wait to get this party started! Don't hesitate to leave any questions that you may have in the comment section! Start thinking of what you'd like to give away on your own blog, and get ready for some fun! Remember to send your votes for "Favorite Posts" to multiplesandmoreblog@yahoo.com!